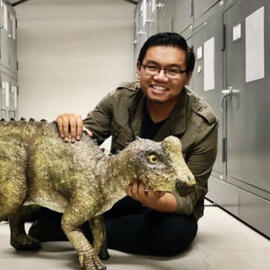 Gabriel-Philip Santos
---
Educator, Paleontologist, Storyteller
About
My name is Gabriel-Philip Santos and I am a Filipinx, first-generation scientist and educator from Los Angeles, California. My passions are education and storytelling. My goal is to make sure everyone has a chance for a bright future.

Currently, I am the Collections Manager and Outreach Coordinator at the Alf Museum of Paleontology in Los Angeles, California. I received my B.Sc. in biology at University of California-Irvine and my M.Sc. in geology at California State University-Fullerton. My previous research interests focused on vertebrate fauna of Southern California and the paleobiology of marine mammals, particularly in the extinct hippo-like desmostylians.

Now, my work focuses on combining my love of science with my passion for storytelling. I also study diversity, equity, inclusion, and accessibility in science education and STEM as a museum educator, Grosvenor Teacher Fellow, and cofounder of the Cosplay for Science Initiative.
---
See my TEDx talk about combining pop culture with science storytelling for education.
---
EDUCATION
Current Projects
Cosplay for Science InitiativeThe FOSSIL Project (project collaborator)Fossil Friday Chats LivestreamInstitute for the Study of Mongolian Dinosaurs (education collaborator)ACCESS Paleo Internship for underpresented groups in museum science
Recent Publications
Stoneburg, B., V. Perez, L. Lundgren, M. Ziegler, and G.-P. Santos. 2020. Cosplay for Science: Leveraging Pop Culture to Make Science More Accessible. Exhibition (Fall 2020) Vol. 39 No. 2. Link
Certifications
National Geographic Certified Educator (2019)
Awards and Recognitions
National Geographic and Lindblad Expeditions Grosvenor Teacher Fellow (2021)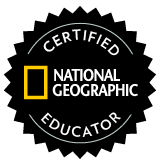 PALEONTOLOGY
Recent publications
Magallanes, I., J. F. Parham, G.-P. Santos, and J. Velez-Juarbe. 2018. A tuskless walrus from the Miocene of Orange County, California with comments on the diversity and taxonomy of odobenids. PeerJ. LinkSantos, G.-P. 2018. The geology and paleontology of a vertebrate bonebed from the Middle Eocene of southern California. Masters thesis.Barboza, M. M., J. F. Parham, G-P. Santos, B. N. Kussman, J. Velez-Juarbe. 2017. The age of the Oso Member, Capistrano Formation, and a review of fossil crocodylians from California. PaleoBios, 34. LinkSantos, G.-P., J. F. Parham, and B. L. Beatty. 2016. New data on the ontogeny and senescence of Desmostylus (Desmostylia, Mammalia). Journal of Vertebrate Paleontology. Link