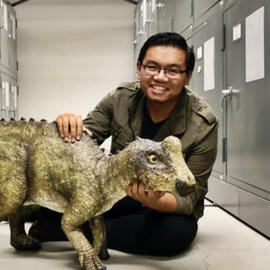 Gabriel-Philip Santos
---
Educator, Paleontologist, Storyteller
About
My name is Gabriel-Philip Santos and I am a Filipino, first-generation scientist and educator from Los Angeles, California. My passions are education and storytelling. My goal is to make sure everyone has a chance for a bright future.Currently, I am the Director of Visitor Engagement and Education at the Alf Museum of Paleontology in Los Angeles, California. I received my B.Sc. in biology at University of California-Irvine and my M.Sc. in geology at California State University-Fullerton. My previous research interests focused on vertebrate fauna of Southern California and the paleobiology of marine mammals, particularly in the extinct hippo-like desmostylians.Now, my work focuses on combining my love of science with my passion for storytelling. I also study diversity, equity, inclusion, and accessibility in science education and STEM as a museum educator, Grosvenor Teacher Fellow, and cofounder of the Cosplay for Science Initiative.
---
See my TEDx talk about combining pop culture with science storytelling for education.
---
Career
Recent Positions
- Director of Visitor Engagement & Education, Raymond M. Alf Museum of Paleontology (current)
- Outreach and Education Committee Coordinator, The Paleontological Society (current)
- Collections Manager & Outreach Coordinator, Raymond M. Alf Museum of Paleontology (2015–2022)Current Projects
- Cosplay for Science Initiative
- Fossil Friday Chats Livestream
- ACCESS Paleo SoCal Internship for historically excluded groups in paleontology and museum science.Certifications
- National Geographic Certified Educator (2019)Awards and Recognitions
- John and Mary Lou Pojeta Award, Paleontological Society (2022)
- National Geographic and Lindblad Expeditions Grosvenor Teacher Fellow (2021)Publications
- Stoneburg, B., V. Perez, L. Lundgren, M. Ziegler, and G.-P. Santos. 2020. Cosplay for Science: Leveraging Pop Culture to Make Science More Accessible. Exhibition (Fall 2020) Vol. 39 No. 2. Link
- Santos, G.-P. Education and Outreach: Cosplay for Science Initiative and the Natural History Museum of Pokémon. Palaeontology Online, Vol. 8, Article 11. Link
- Magallanes, I., J. F. Parham, G.-P. Santos, and J. Velez-Juarbe. 2018. A tuskless walrus from the Miocene of Orange County, California with comments on the diversity and taxonomy of odobenids. PeerJ. Link
- Santos, G.-P. 2018. The geology and paleontology of a vertebrate bonebed from the Middle Eocene of southern California. Masters thesis.
- Barboza, M. M., J. F. Parham, G-P. Santos, B. N. Kussman, J. Velez-Juarbe. 2017. The age of the Oso Member, Capistrano Formation, and a review of fossil crocodylians from California. PaleoBios, 34. Link
- Santos, G.-P., J. F. Parham, and B. L. Beatty. 2016. New data on the ontogeny and senescence of Desmostylus (Desmostylia, Mammalia). Journal of Vertebrate Paleontology. LinkFunding Support
- The David B. Jones Foundation
- The Paleontological Society
- The National Geographic Society
- The Geological Society Geology and Society DivisionMembership
- The Paleontological Society
- The Geological Society of America
- American Association for the Advancement of Science
- National Association of Geoscience Teachers
- National Science Teacher Association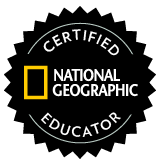 MEDIA
Articles
- Alf Museum's Director of Education Receives National Honor, Alf Museum
- 2021 Grosvenor Teacher Fellowship Annoucement, National Geographic Blog
- CSUF Alumni Feature, CSUF News.
- Science Says Blog: "Storyboarding Your Dissertation", UC Davis
- AAAS Member Spotlight: "Teaching Science Through Cosplay", AAAS
- Cosplay Friday: And Interview with Cosplay for Science, Temple of Geek
- Dinosaurs: Restoring Mongolia's Fossil Heritage, BBC News
- Meet a Scientist: Gabriel-Philip Santos, Time Scavengers
- Rare Fossil Offers a View to a Beast's Old Age, National Geographic ScienceFilm & TV
- Netflix's Ada Twist: Season 4, Episodes 20 & 21 - "Even More Scientists"
- T. rex Ranch episode, guest starDigital Content
- Across the Cline: Episode 7 - Life Animates Art
- Star Warsologies Podcast: Comic Con 2022 - The Science of Jurassic World Panel
- NHPR's Outside/In - What Jurassic Park Got Wrong (and Right) About Dinosaurs
- r/AskScience 2022 SVP Paleontology AMA
- Community Expert Q&A Webinar with Alan Alda (Co-host)
- Ask Theory Podcast: Ano-anu ang matututunan natin sa mga fossils? (Tagalog)
- Nannotalks - "Teaching Paleontology: Desmostylus to Tauntauns"
- OutSCIder Classroom: Meet a Scientist
- OutSCIder Classroom: Learning the Fossil Record
- Fossil Friday Chats: What in the World is a Desmostylian?
- PaleoNerds Podcast: Comparative Science Fiction Anatomy
- PBS Eons - "Fossil Feud: Eons vs SciShow! Nation Fossil Day Livestream"
- Exploring by the Seat of Your Pants livestream
- Solve It! For Kids Podcast
- A People's Map of LA County: Gabriel Santos & Andrew Farke, The Paleontologists
- Geekoscopy Podcast: Dress Up for Science with Cosplay for Science
- Science. . . Sort Of Podcast: Suit Up For Science
- The Amoeba People Podcast - "Fossil Hunting"
- This Filipino American Life Podcast: Paleonotology
- Common Descent Podcast: Diversity in Paleontology
- Palaeocast Podcast - Ep. 111: Diversity in Palaeontology
- Straight From a Scientist: Importance of Science CommunicationFor inquiries, please email me at [email protected].